Handmade Gluten Free Pie Crust Tutorial, No Food Processor Required
If you've been intimidated to make gluten free pie crust in the past, let it go! I urge you to give this gluten free pie crust a try, This all-butter gluten free pie crust follows your typical 3-2-1 ratio and requires no special tools other than a bench scraper. It also contains no fillers or gums.
A few notes on process.
1. Slice your butter very thinly, this will make it easy to work with.
2. Be sure to freeze your butter and flour for at least 15 minutes. I just store sliced butter and some gluten free flour blend in the freezer- never know when the mood will strike.
3. Don't be afraid to work the dough. When you are rolling the butter into the flour, you'll see sheets of butter coated in flour- just imagine how flaky it is. The second fat addition makes for those big chunks of fat.
4. If your flour blend contains xathan or guar gum, leave out the ground chia
INGREDIENTS FLAKY ALL BUTTER PIE CRUST

12 oz gluten free flour blend with no xanthan gum. This is my favorite blend for pie crust– just omit the xanthan gum.
2 tablespoons ground chia seed
8 oz butter very thinly sliced (divided, 6 oz, 2 oz)
4 oz ice water water
1 tablespoon cider vinegar
1 teaspoon fine ground sea salt
INSTRUCTIONS FLAKY ALL BUTTER PIE CRUST

Freeze butter and flour for at least 15 minutes
Place rolling pin and bench scraper in the freezer
Combine water, sea salt, and vinegar and place in freezer
Sift flour and chia out onto rolling surface (through a medium sieve works fine)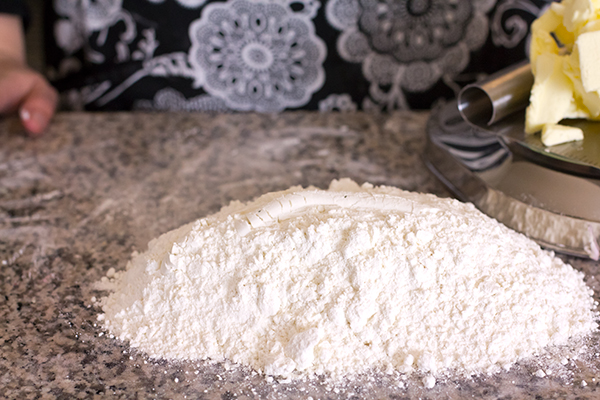 Scatter 6 oz of the butter over the top of the flour (put the rest back in the freezer) and begin rolling the flour into the butter with your rolling pin.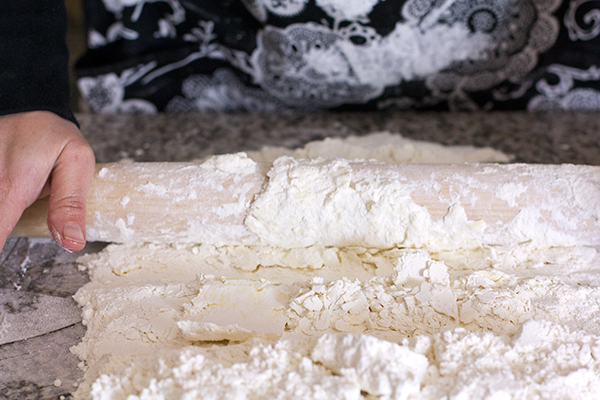 Use your entire body to do this, and don't be afraid to put your back into it. You'll see sheets of butter coated in flour.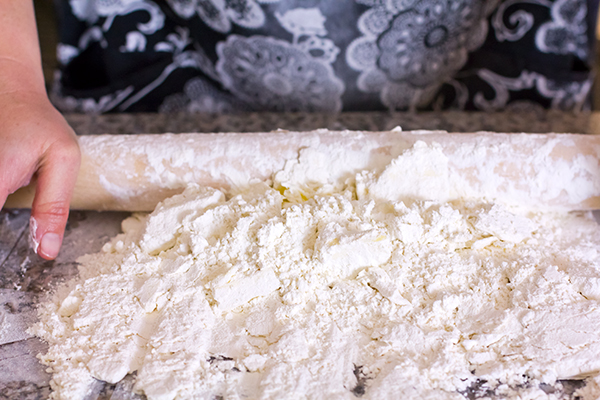 Keep moving the flour into a one-foot square working area with your bench-scraper, and rolling the butter in until there is no flour that seems completely uncoated.
At this point, gather the flour back to a small mound again, and scatter the remaining butter. Cut it in with your bench scraper until there are no uncoated chunks of butter. Pea to hazelnut sized chunks of flour-coated butter are fine.
Use your rolling pin, again, to incorporate this butter.
Form your flour into a small mound in the center of your rolling surface and create a well in the middle.
Pour your water into the well, and using your bench scraper, scoop the sides of the flour into the center.  You'll need to work quickly, as the water will want to escape, but you'll get the hang of it; it's actually fun!
Keep turning the dough to work in the scraggly bunches of flour. The dough will come together, but it's not pretty. It's shaggy and super messy. You may question whether this can ever make a decent pie crust, it will.
Fold it into a rectangle, and then make a business letter type fold. This is forming layers that will give you something that is almost like puff pastry!
Cut into two pieces, gently form into discs, wrap tightly with plastic wrap and place in the fridge to chill for at least one hour and then proceed to roll it out for your favorite pie, tart, or gallette recipes.